Ishizuka consists of specialized companies working together to fully share the know-how of the making of glass materials as well as containers and tableware. Such collaboration enables us to supply high-quality products and to exchange information and ideas with our customers.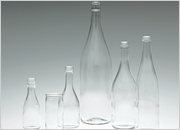 For the sake of efficient manufacturing and logistics, we have three glass bottle plants. One is in the Kanto region (Tokyo plant), another is in the Chubu region (Iwakura plant) and another is in the Kinki region (Himeji plant). We have business marketing offices in Tokyo, Nagoya, Osaka and Fukuoka to provide prompt reception and execution of orders for our products. Furthermore, we are linked with our business agents throughout Japan to meet the wide-ranging needs of our customers.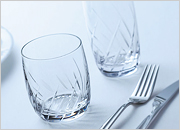 Glass tableware has a cool transparency and beauty due to its sheen that gives it a different quality from tableware made of other materials. We make different kinds of glass tableware by using various decorating and processing techniques and our craftsmen make fancy tableware by man-made glass blowing method. We hope these products will enrich your daily life.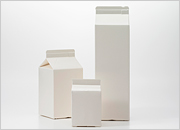 We make paper packages to contain beverages such as milk, juice and other drinks at our plant under thoroughly hygienic and environmentally sound conditions. We provide highly functional and graphically attractive paper packages that enhance the marketability of beverages. As an agent, we also provide filling machines for paper packages both in Japan and abroad, and render our services to train operators, maintain the machines and supply component parts for the machines.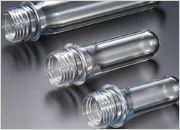 The demand for PET bottles, especially those for containing drinks is now expanding. Basically, PET bottles are formed by blowing the preformed bottles which look like test tubes. Our Plastics Company supplies performs.
Small and large container products are intensively manufactured by a high-speed automation equipment in our Iwakura and Tokyo plants by entrusting the production to Nippon Parison Co., Ltd., which is a group company.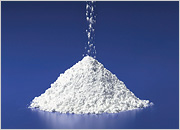 Inorganic glass biocides "IONPURE" is based on our advanced glass technology which has been attained with our glass bottle and tableware business.
IONPURE has the following advantages.
1. High functionality (antimicrobial efficacy, transparency)
2. Good cost performance
3. High safety
We have acquired necessary authorization in United States and EU.
Our IONPURE is appropriate for various application such as molded articles, fibers and coatings.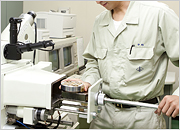 As a base of research and development in the whole Ishizuka group, the necessary equipment for research and development in each department is concentrated. (Ex. Glass melting equipment, plastic-forming equipment, PET bottle evaluation equipment and  various analyzing equipment, etc.) This is to conduct our research and development more efficiently, enabling us to adapt to the fast-changing trends of the marketplace.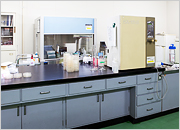 In accordance with the Japanese Industrial Standardization Act, our anti-microbial test laboratory is registered by the National Institute of Technology and Evaluation and is certified as conforming to overseas mutual recognition. Our laboratory conducts JIS tests. We evaluate an anti-microbial effect and accordingly issue a certificate of approval or disapproval. For more information, please refer to the Anti-microbial Test Laboratory guide.